Trophy Whitetail Deer Hunts - Ram Hunts – Elk Hunts – Buffalo Hunts – Ibex Hunts - Other Custom Exotic Hunting Trips
We provide guided high-fence hunts on roughly 400 acres of family-owned hunting preserve located in Lyndon, Kansas. Our affordable hunting packages include everything you need for the best hunting trip. We offer bow hunts & rifle hunts for trophy whitetail deer, seven types of ram, elk, bison, water buffalo, ibex & other exotic animals!
The Kansas Trophy Outfitters Hunting Experience
Our family owned high-fence hunting preserve is located just south of Topeka, Kansas. As a hunting preserve, we have extended hunting seasons that allow you to hunt 365 days a year. This gives you the flexibility to book your high fence hunt whenever you want. Our guided hunts do not require you to have an out-of-state hunting license. That's one less thing you have to worry about when booking your trophy deer hunt, ram hunt, ibex hunt, elk hunt or other exotic animal hunt!
Are you an experienced hunter? Brand-new to the sport? Kansas Trophy Outfitters has everything you need for an enjoyable and memorable hunting trip, no matter how often you've hunted in the past. Even if you've never hunted before or don't own the necessary hunting clothes or gear, you're welcome at Kansas Trophy Outfitters.
Perfect for a weekend hunting trip, family hunting trip, or a hunting trip with your buddies, Kansas Trophy Outfitters provides an all-inclusive big game hunting experience. We can provide you with guns, ammo, and other gear for your hunt, or you can bring your own. Once you take the trophy buck or ram of your dreams, we know you'll want it mounted. After your hunt, we will send your trophy animal to our recommended taxidermist or prep it for you to take back to your own.
We look forward to guiding you on the hunt of a lifetime, sharing our hunting tips and tricks along the way, and watching as you take the perfect shot on a world class buck or big ram.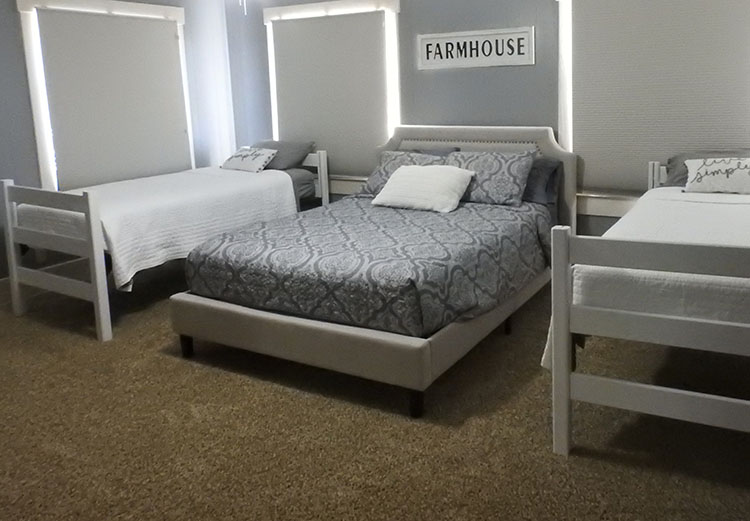 Comfortable Rooms
Six bedrooms, two full baths and two half baths, a full kitchen and living room, washer and dryer on site, cable TV, WiFi, Propane Grill and Fire Pit.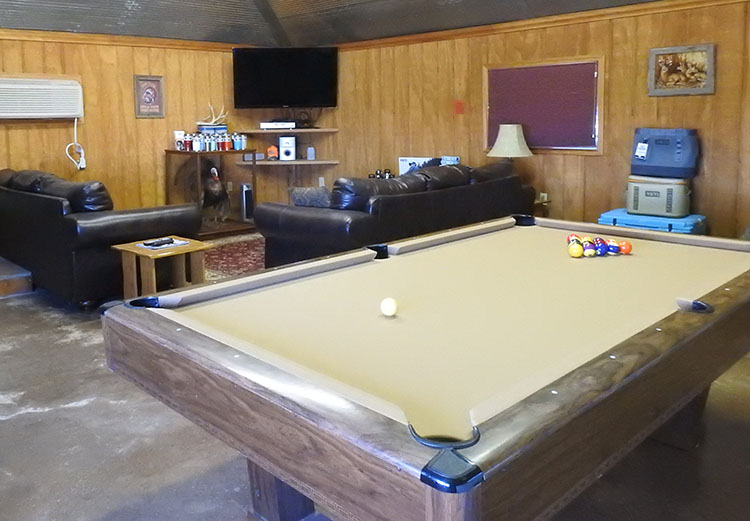 Fully Equipped Rec-room
Our rec room/man cave features a leather couches, a big screen TV, pool table and a full-sized refrigerator. Everything you need to relax after a long day of hunting!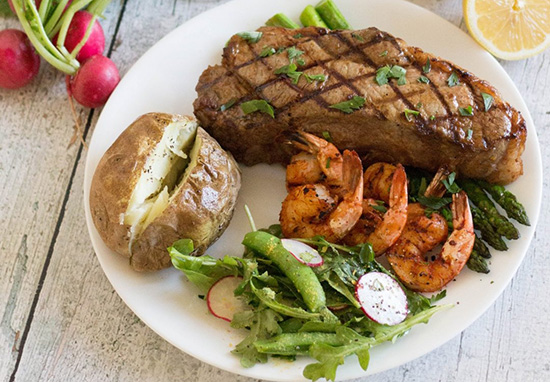 Home-Cooked Meals
Return from the day's hunt and refuel with a hearty, home cooked farm country meal! Savory, satisfying, and sure to be a hit with your entire party.
For a complete description of your accommodations, please visit the Country Lakes Bed & Breakfast site!
KTO was recommended to us by relatives in the area. So glad we decided to spend part of our visit at KTO! Fantastic hunt, the deer were amazing and the food and room at the bed and breakfast were top notch! We will be back! THANK YOU!!!
A great place to hunt, awesome people and experience! Can't wait to come back, already planning our next trip!
My family had a blast on this hunt! Owners were so friendly and helpful, we really appreciate everything KTO did to make our hunting experience truly memorable. I've hunted a lot of different properties, but this one stands above the rest!
The best hunting value you'll find!
* may have a few small kickers
Sales Tax of 7.5% will be added to all hunts
Kansas Trophy Outfitters - Affordable Trophy Hunts
Have questions about our high-fence hunts? Fill out the form below & we'll get back to you quickly!
Located at the foot of the Flint Hills in Eastern Kansas. Kansas Trophy Outfitters, specializes in mature trophy whitetail bucks and rams. If you are looking for an opportunity to see and hunt giant bucks, then Kansas Trophy Outfitters is the hunting destination for you!
Whether you are hunting or just hanging out at the lodge, it is our goal to make sure your experience is enjoyable and relaxing, as well as one that will not be forgotten! From the Trophy class whitetail deer, Trophy rams, beautiful Kansas scenery to the outstanding amenities and hospitality, you will want to reserve your spot now!!