Whitetail Deer Hunts in Kansas
Fast Facts about Whitetail Deer
Category: Big game
Season: Fall/Winter
Color: Grey-brown in the fall, bright white tail underside
Antlers: Antlers increase with age, up to 350 inches
Size: Between 150 to 300 pounds
Price: Click here for pricing information.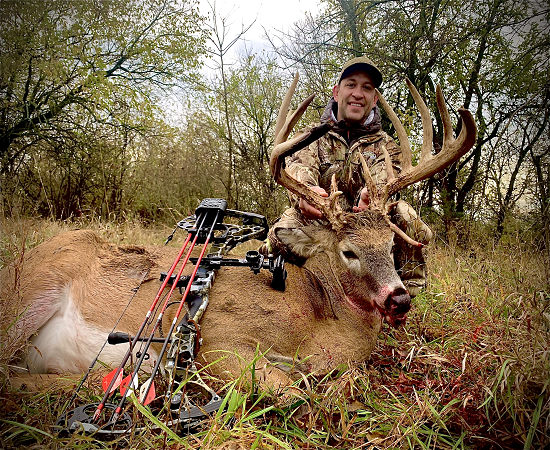 Whitetail Deer Hunting Information
The whitetail deer, is a medium-sized wild ungulate native to North America, Central America, Ecuador, and South America. It has been introduced to Pacific and Caribbean islands, and European countries. In North America, whitetail deer run wild east of the Rocky Mountains, in southwestern Arizona, and most of Mexico.
Like the elk, deer shed their antlers in the winter after the rutting season ends. Whitetail deer begin to regrow in the late spring, when they become covered with velvet. One in 10,000 female deer grow antlers.
Whitetail deer communicate with each other using sounds, scent, body language, and marking. Bucks grunt at a low pitch, as well as snort to signal an imminent threat. Feel free to wear typical hunter orange when tracking a whitetail trophy; they have dichromatic vision and cannot properly distinguish orange and reds.
The Kansas Trophy Outfitters hunting grounds are plentiful with large mature bucks with trophy racks. Our hunting preserve has typical and nontypical whitetail bucks! If you're looking to go trophy deer hunting in Kansas with a pro guide, give us a call today at (785) 207-0212.
Ranked as one of the Top Kansas Trophy Whitetail Deer Hunting Destinations in 2022 by Ranch Review and Outfitter Connection!