Fast Facts about the Ibex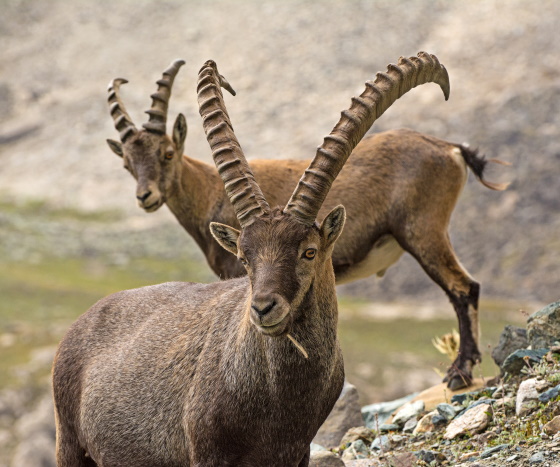 Ibex are a breed of mountain goat in which both rams and ewes grow a set of incredible, recurved horns with transverse ridges at the front. Their horns begin to grow at birth, although the ewes' horns tend to grow more slowly.
The proud ibex hail from various parts of the world, including Africa, central and northern Europe, Asia, and the Middle East. Because of their diverse habitats, there are different species of wild goats described as Ibex, including:
Bezoar ibex
Alpine ibex
Nubian ibex
Ethiopian ibex
Iberian ibex
Asiatic ibex
Siberian ibex
West or East Caucasian ibex
At Kansas Trophy Outfitters, you'll find a variety of ibex in our hunting reserve. Want to hunt a specific species of ibex? We can accommodate requests for custom ibex hunting packages with the species of your choice! Our ibex grow up to 270 lbs., and their horns make amazing trophies, especially those that grow up to four feet long. Their gray to dark brown coat helps them blend into the landscape, so stay watchful for their approach.
Considered an ancient goat breed, the ibex has been depicted in the archeological records of the Near East and Mediterranean regions. There is evidence the ibex was domesticated in the Alps between 3400 and 3100 B.C.
If you want to go on an ibex hunt in Kansas, give us a call today at (785) 207-0212.